We are excited that you are learning about The Corn Maze Store & MazePlay! We would like to introduce our team and give you some information to start you off. Team MazePlay consists of capable professionals adept at creating success for your agri-entertainment venue.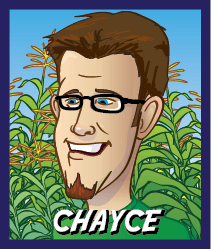 Chayce has been our maze designer and illustrator for over 7 years. He is a published illustrator (see his 32-page children's book) and a very talented cartoonist. From website design to maze-cutting logistics to detailing and creating our game systems, it is pretty hard to find a part of MazePlay's successful operations that doesn't have Chayce's creative and technical skill stamped on it. He would love to create your maze design for you - but he would love even more to talk you into coming out to go snowboarding, ice fishing, or skiing in the off season. Our customers appreciate Chayce's knowledgeable and wise feedback almost as much as they do his personable and helpful style. We just love that we get to work with him.
Dave, who is new to our team, is a proliferator of hope! He writes and distributes marketing and business development materials, troubleshoots advertising dilemmas, and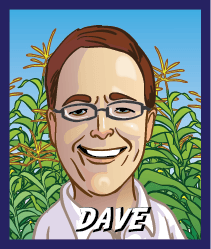 basically supplies all-around customer support. He is a marketing professional with a great background to understand how to connect to customers. When he was a kid, he worked hard to convince his father to build a corn maze in their back 40 acres. He failed, utterly…but, not being one to let a great idea go, he is now living the dream! …and just maybe he can succeed in talking you into building one in yours! When he's not researching demographics and updating our Facebook page, you may get to meet him as he assists Shawn with cutting mazes and shaking hands with our maze owners across the country.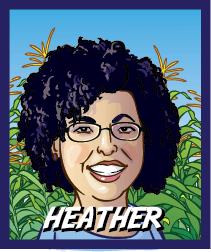 Heather Stolworthy is delightful, yet humble to a fault. She promotes herself as "chief go-fer and lemonade-maker." She drives the trucks, helps with sales on the road, and fields the concerns of our customers whom she considers friends and family. She wrote the book "Who Kidnapped Farmer Joe" that has been so popular. And as our chief editor, she has spotted several typos in this introduction. At the heart of our company, Heather reminds us that our customers are our friends! "We have to do a good job for the customers." She is often on location - usually with their 5 kids in tow. For those of youthat have met and enjoyed her visits, you know what a good friend she can be.
And, of course, Shawn Stolworthy is our fearless leader! His entrepreneurial spirit fires what we do and he is very particular about promoting a culture of service within the team. Customers like to counsel with Shawn about their business decisions because he has had a lot of years of experience and has been a successful maze operator himself. Shawn's job is to keep everybody on task with our mission statement "MazePlay is: creating corn maze designs, games, and maze business coaching to inspire!" He works hard to help us all have fun while being productive. He reminds us that "We are here to make it possible for our customers to have a better life and help families create positive memories at the corn maze." To do that, "We create mazes and games that are entertaining and fun. We want people to talk about how much fun they had in our mazes."
As a team, we pride ourselves on creating award-winning maze designs. We believe a good design grabs attention and creates a "WOW!" Its the "wow effect" that differentiates your maze and often captures big media attention - and that brings customers! A good design is also more fun and creates better customer satisfaction. Word of mouth should be the largest marketing method for your maze. Many of our mazes will generate over 50% of their customers though word of mouth. The better the design the larger the potential for profit.
MazePlay has been recognized year after year for our quality work in maze design and cutting. Our work is very accurate, so that what you see on paper is what your maze actually looks like in the field. We believe that our custom mazes speak for themselves - and we want them speaking for you. We create maze game systems that are fun and engaging and marketing materials that are effective. We love our work and strive to create the best value for our customers.
Thanks again for letting us explain a little bit about who we are and what we can do for you. After you have had a chance to look over our website, please give us a call to discuss what questions you might have. We look forward to an opportunity to work with you.
Hear what our customers have to say about their experience working with MazePlay!
We love to talk!
We're not afraid to talk to you. Need help or just don't like placing orders over the Net? Contact Us.

Thanks for shopping with us!